Efferocytosis, the phagocytic removal of apoptotic cells, is a dynamic process requiring the recruitment of numerous regulatory proteins to form efferosomes in a tightly regulated manner. Creative Bioarray can provide accurate and convenient quantitative efferocytosis assay to help your research on cell death.
Background
Efferocytosis occurs through a unique phagocytic mechanism reliant on the successful completion of three distinct steps.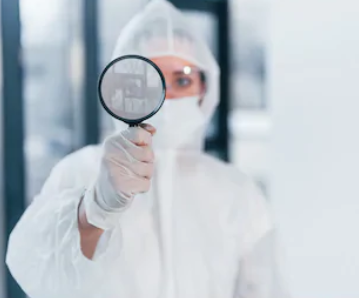 First, "find-me" signals such as lysophosphatidylcholine are released from apoptotic bodies, inducing recruitment of phagocytes to the apoptotic cell.
Next, phagocytes bind apoptotic corpses through recognition of "eat-me" signals by apoptotic cell binding opsonins and phagocytic receptors.
Finally, the phagocyte engulfs the apoptotic corpse into an intracellular membrane-bound compartment termed the efferosome, where it is degraded.
Our Services
In cell biology, efferocytosis is the process by which apoptotic cells are removed by phagocytic cells. Our services include but are not limited to:
Quantitative Efferocytosis Assays Service
Creative Bioarray uses microscopy-based methods to enumerate efferocytotic events and characterization of the spatio-temporal dynamics of signaling molecule recruitment to efferosomes, using genetically encoded probes and immunofluorescent labeling. This protocol can be applied to studies of receptors and ligands involved in apoptotic cell recognition, as well as signaling and vesicular trafficking events regulating the degradation of efferocytosed apoptotic cells.
Experiment Process

Customer Notice
Customers provide
Samples
Test purpose
Test requirements
We deliver
High-quality test reagents
Experiment process
Photos and relevant analysis data
Complete experiment report
Experiment cycle
The time depends on the experiment content
Advantages of Our Services
High-quality products and professional technicians

We provide detection reagents with high sensitivity and specificity. We have rich operating experience and superb technology.

High standard

The experimenters have many years of successful experiment experience and can guarantee the standard of experiment operation and experiment process.

Cheap price

We provide customers with the most comprehensive services at the most favorable price, and help customers save scientific research funds reasonably.

Safety

All experiments have signed confidentiality agreements, focusing on protecting customer privacy.
If you are interested in our services, please contact us for more detailed information.
* For scientific research only