Angiogenesis is the process of generating new blood vessels from pre-existing ones. The major cells involved in this process are endothelial cells, which are the building block of our entire vascular system. To generate new blood vessels, endothelial cells have to first escape from their original location by producing enzymes to move through the basement membrane. Once this is achieved, endothelial cells migrate toward the angiogenic stimulus, for example, which might be released from tumor cells. Moreover, endothelial cells proliferate to produce sufficient number of cells required to form new blood vessels. Subsequently, these new outgrowths of endothelial cells will reorganize into a tubular structure. Each of these elements, basement membrane degradation, cell proliferation, migration, and tube formation, is a target for intervention that can be tested.
The importance of studying angiogenesis, is highlighted by its involvement in both normal physiological processes (such as embryonic growth and wound healing) and various pathological conditions (such as cancer, diabetes, and cardiovascular diseases). Either deficient or excessive vessel formation may lead to the onset of disease. Therefore, treatment aims to promote or reduce angiogenesis. Agents that stimulate angiogenesis can improve blood flow recovery for the treatment of ischemic diseases, whereas anti-angiogenic agents have been used to treat cancer and inflammatory disorders.
There are numerous assays for studying angiogenesis, which can be used to evaluate the pro- or anti-angiogenic effects of treatments. Creative Bioarray offers various angiogenesis testing services to support your research.
The most widely used assay for studying angiogenesis is the tube formation assay, which involves plating endothelial cells on an extracellular matrix (ECM), such as Matrigel or collagen. When endothelial cells are seeded onto Matrigel, they form capillary-like structures which recapitulate the angiogenesis process. The length or area of capillary-like structures can be quantified to evaluate cell angiogenesis in vitro.
The main advantage of this assay is that tube formation occurs within a few hours and newly formed tubules can be easily quantified, making it a fast and quantifiable method for assessing angiogenesis.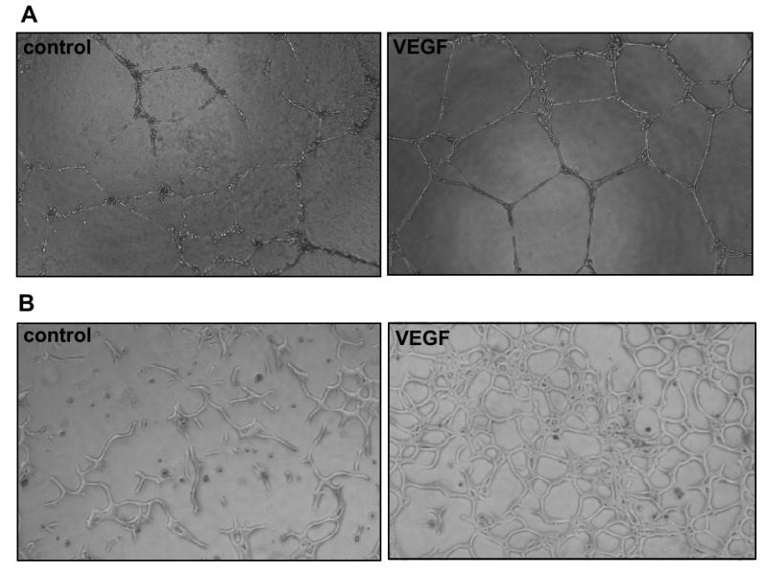 Figure 1. Tube formation assay. Human umbilical vein endothelial cells (A) and bovine aortic endothelial cells (B) were plated on Matrigel and cultured in the absence or presence of VEGF (10 ng/ml).
The endothelial cell spheroids can be used as a suitable in vitro model to study cell angiogenesis and assess pro- and anti-angiogenic agents. In this assay, spheroids are embedded into a hydrogel matrix for them to form sprouts. For analysis of cell angiogenesis, the sprouting of spheroids can be imaged for quantification of the number and length of sprouts. A major advantage of this technique is that it allows the measurement of sprout formation in a three-dimensional (3D) environment.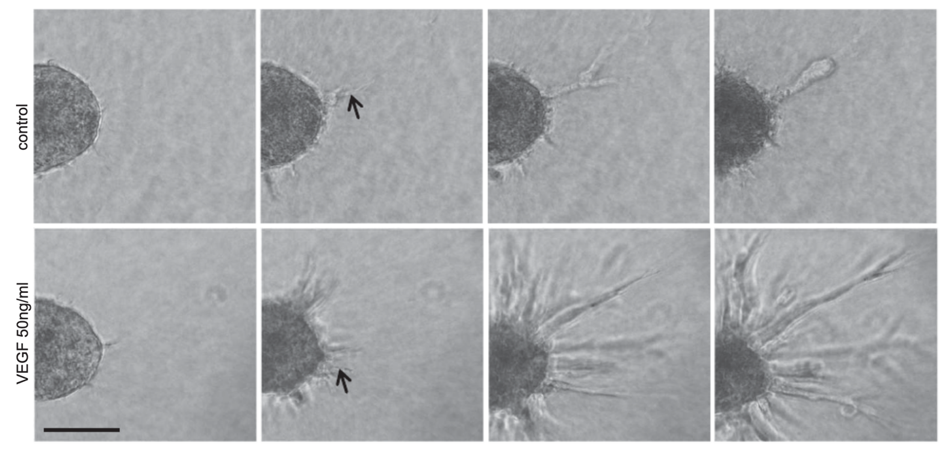 Figure 2. Time-lapse video microscopy images (20 hours) of human umbilical vein endothelial cell (HUVEC) spheroid sprouting. HUVEC spheroids were seeded in collagen gels and treated with or without 50 ng/ml VEGF. Scale bar, 100 µm.
Additional angiogenesis assays
Some additional assays can be used to assess angiogenesis, such as, aortic ring assay, chorioallantoic membrane (CAM) assay, corneal angiogenesis assay, and Matrigel plug assay.
Aortic ring assay
Rat or mouse aortic explants have the ability to sprout and form vessels ex vivo when cultured in ECM gels. Cell outgrowth in these explants can be monitored and quantified.
Chorioallantoic membrane (CAM) assay
This assay is carried out by implanting the compound of interest on the chorioallantoic membrane by cutting a window in the shell of a developing chick egg. After 1-3 days of incubation, angiogenesis can be quantified.
Corneal angiogenesis assay
Vessel growth is induced in the avascular cornea of the rabbit or the mouse eye. Following several days of incubation, corneal neovascularization can be assessed quantitatively.
Matrigel plug assay
Mice are injected subcutaneously with a mixture of Matrigel and cells, or potential pro-/anti-angiogenic factors. The density of vessels that have entered the plug is quantified.
References:
1. Goodwin, Anne M. "In vitro assays of angiogenesis for assessment of angiogenic and anti-angiogenic agents." Microvascular research 74.2-3 (2007): 172-183.
2. Heiss, Maximilian, et al. "Endothelial cell spheroids as a versatile tool to study angiogenesis in vitro." The FASEB Journal 29.7 (2015): 3076-3084.
3. Stryker, Zachary I., et al. "Evaluation of angiogenesis assays." Biomedicines 7.2 (2019): 37.
* For scientific research only