Creative Bioarray has a prefered basic experiment platform, advanced equipment, professional technical team, standard operating procedures and a strong expert network. Creative Bioarray can provide researchers with experimental outsourcing services related to cell necrosis.
Background
High Mobility Group Box 1 protein (HMGB1) is a ubiquitous nuclear protein that is passively released by cells that died in a traumatic, non-programmed way (necrosis). HMGB1 is one of the most important chromatin proteins. In the nucleus, HMGB1 interacts with nucleosomes, transcription factors, and histones. This nuclear protein organizes the DNA and regulates transcription. After binding, HMGB1 bends DNA, which facilitates the binding of other proteins. HMGB1 supports the transcription of many genes interacting with many transcription factors. It also interacts with nucleosomes to loosen packed DNA and remodel the chromatin. Contact with core histones changes the structure of nucleosomes. The protein plays a role in a variety of cellular processes, including inflammation, cell differentiation and tumor cell migration.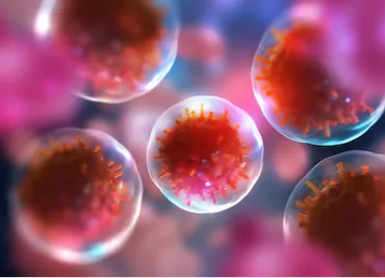 Our Services
One commonly used assay for necrosis detection measures the extracellular release of HMGB1, a non-histone chromatin-binding protein that normally regulates transcription. Creative Bioarray has established a complete cell culture platform, equipped with complete animal experiment related detection and analysis equipment. Our services include but are not limited to:
Quantification of HMGB1 by ELISA
The binding of HMGB1 and its receptors will alert leukocytes to extravasate from the blood into the affected tissue, trigger adaptive immunity and promote the migration and proliferation of cells (including stem cells) to repair the damaged tissue. Importantly, apoptotic cells modify their chromatin to bind unreleased HMGB1. When distressed, several cell types (in particular inflammatory cells) have the ability to secrete HMGB1 actively via a dedicated pathway and thus produce a damage signal without dying.
The ELISA is a widely used application for detecting and quantifying proteins and antigens from various samples. It is a common method for the quantification of HMGB1 in cell culture supernatants as well as in bodily fluids.
Detection of HMGB1 Release by Fluorescent Biosensors
Cell lines that have been engineered for the stable expression of HMGB1 fused to a fluorescent protein (for example, GFP or RFP) can be utilized to monitor necrosis in real-time by time-lapse microscopy, even in high throughput screening settings.
Commercial kits for ELISA-based quantification of HMGB1 endpoints in culture supernatants (and body fluids) are relatively unsuitable for this goal because they are inherently unable to monitor the dynamics of HMGB1 release. To circumvent this issue while maintaining the possibility to perform end-point determinations, Creative Bioarray engineered human osteosarcoma U2OS cells to express HMGB1 fused at the N-terminus of the green fluorescent protein (GFP) and developed a fluorescence microscopy-based automated method for the high-throughput analysis of HMGB1 release.
The major caveat of this detection system is that HMGB1 release has also been shown to occur in some cell death unrelated settings (for example, following monocyte and/or macrophage activation) and in some cases of apoptosis.
Experiment Process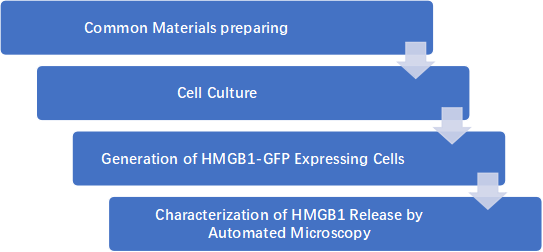 Customer Notice
Customers provide
Cell samples
Experiment content
Test purposeand requirements
We deliver
Experiment process
Instruments and reagents used
Photos and relevant analysis data
Complete experiment report
Experiment cycle
The time depends on the experiment content
Advantages of Our Services
Short time

We have a complete cell culture platform and self-developed cell biology products, which can shorten the testing time and deliver results as quickly as possible.

High standard

The experimenters have many years of successful experiment experience and can guarantee the standard of experiment operation and experiment process.

Complete instrument platform

We have many types of microscopes and flow cytometers and other instruments with high resolution.

Cheap price

We provide customers with the most comprehensive services at the most favorable price, and help customers save scientific research funds reasonably.

One-stop technical service

We provide one-stop services such as cell culture, cell staining and photo taking.
If you are interested in our services, please contact us for more detailed information.
* For scientific research only