Pyroptosisis a way of programmed cell death and the natural immune response of organisms. Creative Bioarraycanprovide customers with GSDMD/GSDME immunofluorescence staining services to better study pyroptosis.
Background
Pyroptosisis a process of programmed inflammatory cell death. The cells continue to swell until the cell membrane ruptures, releasing a large amount of pro-inflammatory factors to stimulate other immune cells to resist infection and cause tissue inflammation. Pyroptosisusually occurs faster than apoptosis.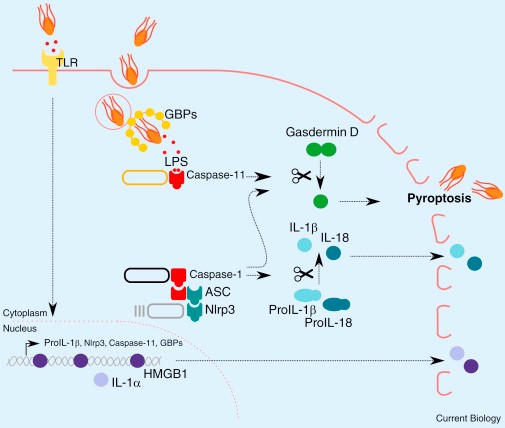 The mechanism of Pyroptosis (Lieselotte Vande Walle, et al. 2016)
Our Services
When cells are subjected to different stimuli, they initiate the pyroptosis process through different pathways, and are widely involved in the occurrence and development of diseases. Our services include but are not limited to:
Pyroptosis-related Genes or Proteins Expression Level Detection
Pyrolysis can be divided into two main steps.
The first step (also known as the startup step):
Inflammasome recognizes extracellular bacteria, viruses, drugs and other stimuli, and promotes transcription and synthesis of pro-IL1β, Nlrp3, and caspase-11 (caspase-4, caspase-5 in human).
The second step (also known as the activation step):
This step is divided into the caspase-1-dependent pathway and caspase-1-independent pathway (caspase4, 5, 11 dependent pathway).
Creative Bioarray uses PCR or Western Blot to help you detect the expression level of pyrolysis-related genes or proteins, such as caspase-1\4\5\11, GSDMD, etc.
Customer Notice
Customers provide
Formal experimental samples
Target genes or proteins
Test purpose and requirements
We deliver
High-quality test reagents and antibodies
Experiment process
Complete experiment report
Experiment cycle
The time depends on the experiment content
Advantages of Our Services
Customized service

Creative Bioarray can assist you to complete the design of the experimental content according to the experimental ideas, experimental literature, purpose and requirements provided by you.

Reliable

The experimenters have many years of successful experiment experience in pyroptosis research and can guarantee the standard of experiment operation and experiment process.

Short time and low cost

We provide customers with the most comprehensive services at the most favorable price and help customers improve the efficiency of research.

Safety

All experiments have signed confidentiality agreements, focusing on protecting customer privacy.
If you are interested in our services, please contact us for more detailed information.
* For scientific research only