Introduction
Toxicology is a science that studies the harmful effects of exogenous chemicals and physical and biological factors on biological organisms and their mechanism of action, and then predicts the severity of their harm to the human body and the ecological environment, and conducts qualitative and quantitative evaluation of toxic effects.
In vivo toxicology is the study of the toxic effects of chemical substances in intact living organisms (such as laboratory animals). The in vivo toxicity test is a toxicity and toxicological test conducted on whole animals. In vivo experiments of foreign compounds may involve the participation of complete kinetic processes (biological transport and transformation) and the body's homeostasis mechanism.

Solutions for You
Creative Bioarray provides flexible protocols for rodent and non-rodent in vivo toxicology evaluation. A variety of administration routes can be used to investigate adverse reactions, determine the degree and reversibility of toxic reactions, and establish a dose-effect relationship to help customers choose clinical trial doses and predict toxicity.
Animal Species
Rodents (rats, mice, hamsters, guinea pigs)
Non-rodents (rabbits, dogs, non-human primates, miniature pigs, etc.)
Route of Administration
Oral
Skin
In the nasal cavity
In the vagina
Inhalation
Subcutaneous injection
Intraperitoneal injection
Intramuscular injection
Intravenous injection (including continuous 24h intravenous infusion)
Other
As a leader in the field of toxicology research and testing, Creative Bioarray conducts toxicology research in accordance with national and international regulatory guidelines and GLP standards. Our solutions include:
Customized Genetic Toxicology Research
Genetic toxicology research is an early safety test project carried out by the pharmaceutical industry. QPS conducts genetic toxicology studies in stages, first performing Ames test, then mammalian cell and in vivo tests. These tests are designed to assess the toxicological relevance of initial observations. Our services include:
Gene mutation detection
Ames test
In vitro mouse lymphoma detection
Cell variability test
Detection of chromosomal abnormalities in Chinese hamster ovary (CHO) cells
Micronucleus detection in CHO cells
Mouse micronucleus detection
Reproductive Toxicology
Following internationally recognized guidelines, including ICH (International Conference of Harmonization) guidelines, Creative Bioarray provides a complete developmental and reproductive toxicology project plan and experimental design for your drugs and biotechnology products. Our services include:
Fertility test
Teratogenicity test
Clinical Pathology
Our experienced clinical pathology team provides comprehensive laboratory testing services. Our laboratory uses the most advanced instruments and technology, quality assurance measures and laboratory management systems to provide the highest level of support for your toxicology research. Our services include:
Urine analysis
Hematology analysis
Serum biochemical analysis
Hemagglutination analysis
Microbiological and immunological analysis
Histopathology
Histopathological evaluation combined with clinical pathological data is the cornerstone of toxicological evaluation of drugs and biotechnology products. Our services include:
Tissue and section preparation
Tissue image analysis
Sperm morphology analysis
Pathology consultation and evaluation
Local Tolerance Test
Creative Bioarray can assess the skin irritation and sensitization of your test materials to determine the possibility of eye irritation, skin irritation or sensitization. Our services include:
Stimulus Research
Eye irritation
Skin irritation
Project Process
Creative Bioarray is committed to providing in vivo toxicology solutions to support early drug development and lead compound selection or optimization. We can provide fast and high-quality toxicity evaluation according to the process required by customers. To efficiently evaluate the toxicity of your compound, we can begin the in vivo toxicology study immediately.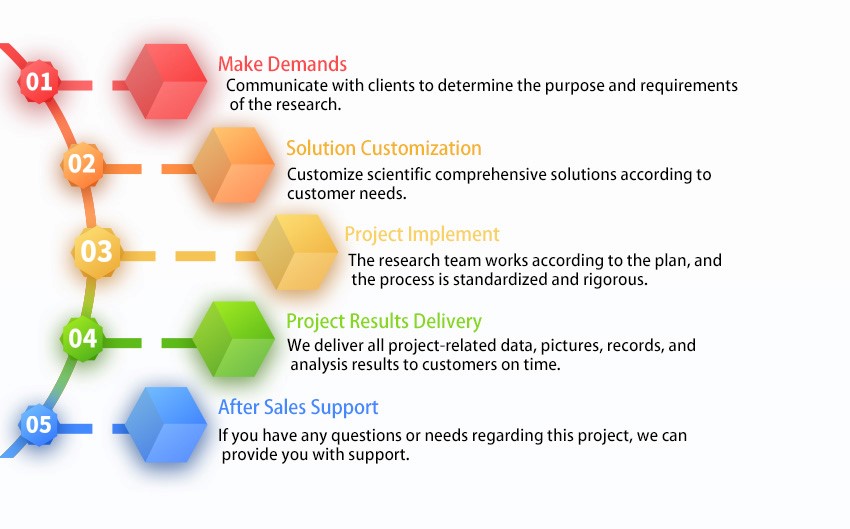 Why Choose Us
Professional Platform and Excellent Team
We have a professional technical platform, equipped with advanced instruments and talented and well-trained experts.
Committed to Quality
We put quality first. We provide high-quality products, services and solutions to support customers worldwide.
World-class Service Capabilities
We provide one-stop service, from order to final report, to provide the best solution for your research. We hope to help you complete your research more easily and efficiently.
Customer-centric
We adhere to a mutually beneficial and win-win cooperation model, pay attention to customer needs and goals, and create the greatest value for customers.
If you are interested in our services, please contact us for more detailed information.
* For scientific research only