Introduction
Cell death is a state in which biological cells permanently suspend their physiological functions. Cell death may be planned or due to irreversible cell damage caused by disease or trauma. It is an important process in the body because it promotes the removal of excess cells. However, abnormal cell death can cause or exacerbate many diseases. Since it is indispensable in many human diseases, there have been strategies to regulate related pathways, effectively treating the diseases.

Solutions for You
Fundamental research on the methods and causes of cell death can help us understand the mechanisms of different types of cell death, which in turn can provide theoretical support for finding drug targets and developing new disease treatments.
Creative Bioarray is a service provider with advanced technology. We integrate scientific research, medical technology services, and sales of scientific research reagents to provide you with more professional and comprehensive services. We focus on delivering current experimental technology services to researchers in the domestic and foreign life science and biotechnology industries and clinics, specializing in the area of cell death. Our rich research programs can help you determine the various links of cell death and provide a better understanding of this important process. Our functional analysis platform includes:
Project Process
Creative Bioarray has extensive experience in basic research on cell death. We have advanced technical equipment and professional researchers. We can provide customers with comprehensive solutions for basic research on cell death. We can provide a full set of customized technical services from program design, cell culture, sample processing, experimental operation, image collection, data measurement, and result analysis.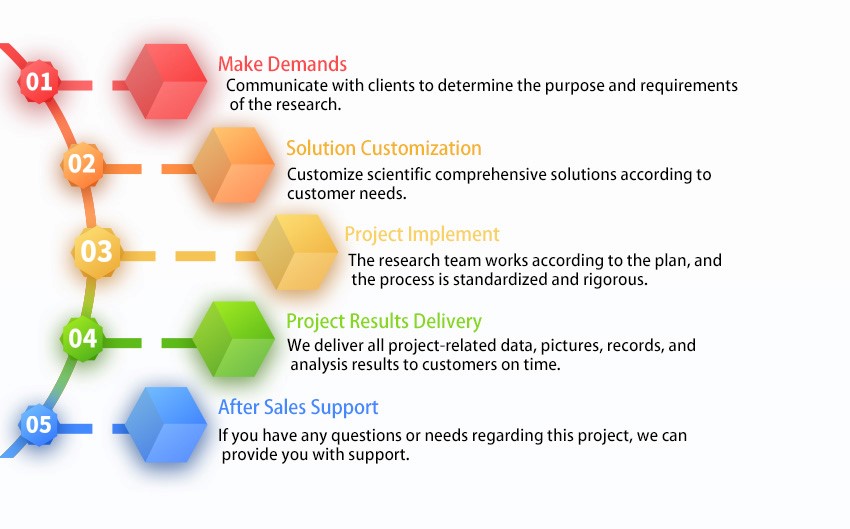 Why Choose Us
Professional Platform and Excellent Team
We have a professional technical platform, equipped with advanced instruments and talented and well-trained experts.
Committed to Quality
We put quality first. We provide high-quality products, services and solutions to support customers worldwide.
World-class Service Capabilities
We provide one-stop service, from order to final report, to provide the best solution for your research. We hope to help you complete your research more easily and efficiently.
Customer-centric
We adhere to a mutually beneficial and win-win cooperation model, pay attention to customer needs and goals, and create the greatest value for customers.
If you are interested in our services, please contact us for more detailed information.
* For scientific research only